How to Decide Between Assisted Living and Memory Care
Do you have a parent who can no longer live on their own and you're not sure what to do next? Perhaps they have also begun to have issues with memory, which adds another level of concern.
You may be looking into senior housing communities, but you aren't sure if an assisted living home or a memory care facility is the best choice.
Don't worry, because we are here to help you make that decision. 
In this article, we will guide you through the things you should consider when making this important choice and what key components a memory care facility should have that differ from assisted living.
Table of Contents
How Do I Choose Between Assisted Living and Memory Care?
If you have a parent or other family member with dementia and are considering a move to a senior living facility, you may have some difficult choices ahead of you. The amount of information to wade through and factors to consider can be overwhelming.
The first thing you should know is that all senior living facilities aren't the same. Assisted living and memory care are different programs tailored to meet certain needs, and if you choose the wrong one your loved one may not thrive.
In this article, we will guide you through how to decide between assisted living and memory care and what you need to think about when making this important decision.
Top 7 Things to Consider When Deciding Between Assisted Living and Memory Care
Senior adults and their families don't all have the same needs, so let's look at the factors you'll want to keep in mind when determining if your loved one would benefit most from assisted living or memory care.
#1: Cost — Is Memory Care More Expensive Than Assisted Living? 
Memory care is more expensive than assisted living because of the level of patient management required. Costs vary by state and specific plans, but on average you can expect to pay $1,000 to $4,000 more per month if your family member is in a memory care facility.
Why Is Memory Care More Expensive Than Assisted Living? 
The main reason memory care facilities are more expensive than assisted living sites has to do with staffing costs. 
Not only are these places more likely to need more staff members to be able to give the one-on-one care often required for seniors with dementia, but they also must hire employees who can meet the specific needs of their residents.
Memory care staffers must:
Undergo extra training compared with people who work in assisted living.

Be able to collaborate with other employees and the family as the senior's needs change rapidly.

Offer specialized activities and entertainment that are designed to be cognitively stimulating for those with memory impairment.

Provide needed behavioral support for the mood disorders that are common in dementia patients.
Now that you know the cost differences, let's look into the specifics in deciding which level of care is needed.

#2: How Much Assistance Do You (Or Your Loved One) Need?
The amount of day-to-day help the person moving into a senior facility needs can determine if a general assisted living environment is ideal or if memory care is needed.
Limited Assistance
If your family member is generally independent but may need some help with …
Meals

Medication management

Assistance with certain activities of daily living; and

Transportation
… then assisted living is probably the way to go.
Assisted living facilities have programs and staff to help people who live there when they want it, but there's also usually freedom to come and go and use the services as needed.
High Levels of Care 
But if your loved one would benefit from more assistance on a day-to-day basis and needs care that is … 
One-on-one

Personalized; and

Supportive of memory loss through the use of cues
… you are probably better off moving them into a memory care facility.
These places have skilled staff members in higher numbers that enable them to give each resident the attention that is needed.
#3: Is There Any Elopement Risk? 
Patients with later stages of dementia are at a higher risk for elopement, a term used to describe a person with memory issues leaving a safe area. This can be quite dangerous as it may lead to the resident being lost or injured.
If this is the case for your family member, an assisted living facility likely isn't the best option.
Consider the Facility Layout/Safety 
When researching or touring one of these communities, you should consider whether or not it was created with memory care patients in mind. Memory care facilities are highly secure, remaining locked at all times with no way for patients to wander off.
But rather than feeling like a prison, these buildings should create lots of safe spaces for the residents to enjoy. For instance, there may be smaller areas where patients will feel secure or beautiful outdoor areas that do not allow access off of the grounds. 
Residents can have more independence when they are in a facility that is right for them.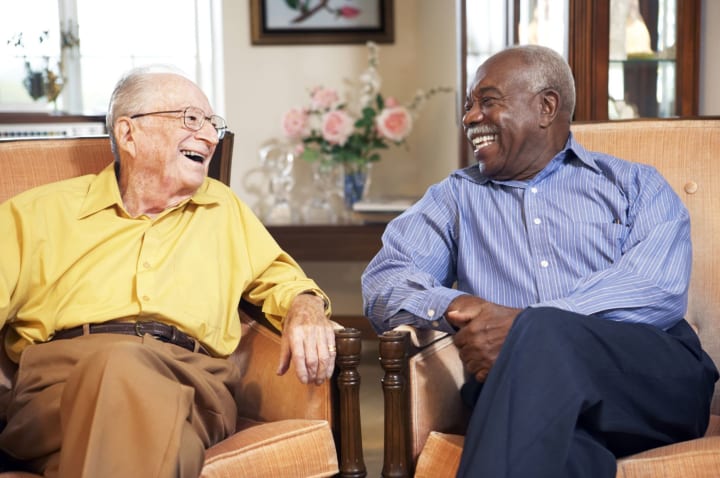 #4: Are Any Worrisome Behaviors Being Exhibited?
Depending on your loved one's stage of dementia, they could be exhibiting many unpredictable behaviors that a regular assisted living facility is just not equipped to deal with.
Let's delve into some specific examples of those.
Combative Behaviors
Combative behaviors may include:
Physical aggression — like hitting or pushing. 

Verbal aggression — such as shouting or name-calling.

Disruptive behavior — this could be refusing to follow directions and participate in activities or doing things to prevent others from doing so.
A person showing these behaviors in an assisted living facility that does not have staff members trained to deal with them could be a danger to himself or others, or at the very least would contribute to an unpleasant environment for all involved.
High Anxiety Behaviors
High anxiety behaviors include things like:
Sleep disturbances

General emotional distress

Restlessness

Pacing

Shredding tissues or papers
If not dealt with properly, these can create a miserable experience for a person with memory issues. 
Having staff members who know how to respond in these situations — as memory care facilities do — can make a huge difference in quality of life.
#5: Which Environment Would You (Or Your Loved One) Thrive In? 
Even if you haven't seen any combative or high anxiety behaviors from your family member, it's important to consider which environment they might thrive in cognitively and physically. 
For example, do they need exposure to lots of activities? Or are they unable to communicate with others around them in an assisted living facility?  Factors like this might help you determine the best environment for their care.
Consider Physical and Social Needs
If your loved one is at-risk in that he or she is prone to wandering or not oriented to self or space, a memory care facility would be the safest place. 
We've already discussed security measures, but consider something as simple as a senior not being able to figure out which room is hers in a facility and the confusion that could cause.
And you probably haven't even thought of this, but sometimes seniors with memory issues are not able to appropriately interact with other residents, which can lead to problems.
For instance, a common behavior of those with dementia is that they repeat themselves constantly. This can cause other residents to become frustrated and ignore that person, which in turn leads to them feeling left out and tending to self-isolate.
In a memory care facility where everyone is functioning at a similar level, this isolation is not as likely to occur.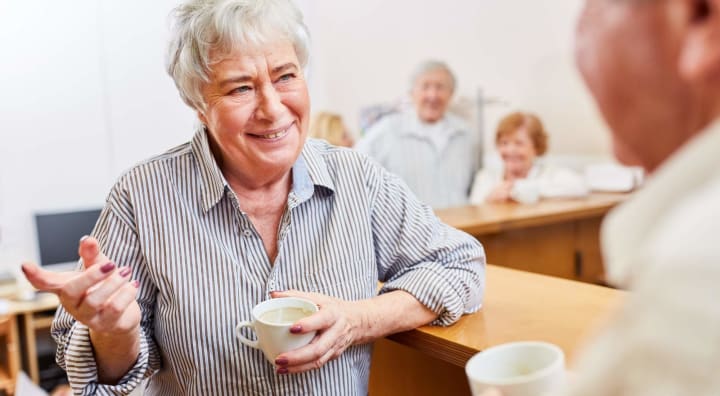 #6: Is This a Once-and-Done Move?
Moving is stressful for anyone! So if you're noticing a decline, memory care might be the better option if you don't want to have to put yourself or your loved one through a drastic change. 
If your family member moves to an assisted living facility to start and then later moves to memory care, they may not adapt easily — which could lead to more problems for everyone involved.
#7: Is This What's Best for Your Loved One? 
There's a lot to think about when figuring out how you will handle a family member with memory issues, but the key question should always be this — what is best for your loved one?
Of course, you will be considering things like … 
Budget

Location; and

Amenities
… but those should be secondary to whether or not a space has staff and facilities optimized to assist with your family member's needs.
You know you need help in caring for the person in your life with memory problems, so make sure you choose the path that benefits him or her the most.
Do You Need Help Determining How to Decide Between Assisted Living and Memory Care? Senior Services of America's Team Is Here to Help You Make the Best Decision
We hope we've given you information that will help you as you decide whether assisted living or memory care is best for your loved one. But if you still aren't sure, then reach out to an advisor at a Senior Services of America community.
Our goal is to provide our residents with the best possible customer service that results in a positive experience every day. No matter what level of protection your family member needs, we strive to:
Provide comfort and care

Promote independence; and

Enrich residents' lives
Find your nearest community and let us guide you through this process.