About Us
The Lodge at Mallard's Landing is a premier retirement and assisted living community located in picturesque Gig Harbor, Washington. Featuring a distinguished Memory Care program consisting of 25 apartments, the Lodge includes 98 independent and assisted living apartments (including studios, one bedroom and two bedrooms) and 24 independent cottages. With industry-leading amenities such as Corian kitchen countertops, walk-in showers and beautifully designed common areas, the Lodge is revered for its impeccable service, cozy atmosphere and welcoming community.
In addition to a full and active lifestyle, we offer assisted living services in the privacy of your own apartment. Respite care apartments are also available for seniors recuperating from an illness or surgery or the need for an extra hand while family is out of town. Our compassionate staff take pride in caring for our Residents, helping each one to live in a comfortable and dignified lifestyle. Our services include five levels of care ranging from assistance with medication to assistance getting dressed and help with bathing and grooming.
We've combined the elegance of a fine resort with the comforts of home at The Lodge at Mallard's Landing. Our community includes a spectacular dining room featuring all day dining from 7 a.m. to 6:30 p.m., a complete exercise gym, a movie theater, a craft room, library and game room, plenty of social areas, underground parking garage, outdoor gazebo and patio seating area as well as walking paths connecting you to the Adam Tallman Nature trail.
In addition to these luxe amenities, our Memory Care program provides seniors the comfort and care they need to enjoy each day. We welcome seniors experiencing all stages of memory loss, as well as their families, basing our care off of our four core values: mental vitality, physical activity, social engagement and emotional support. Our supportive and compassionate staff offer memory care residents personalized attention, healthy meals and stimulating activities tailored to each person's abilities.
More than just a place to live, The Lodge is a warm community full of seniors who are excited to live each day to its fullest. From our extensive activity offerings to our beautiful amenities, The Lodge is truly one of a kind.
We are always looking forward to meeting new people and families, and hopefully one day call them residents!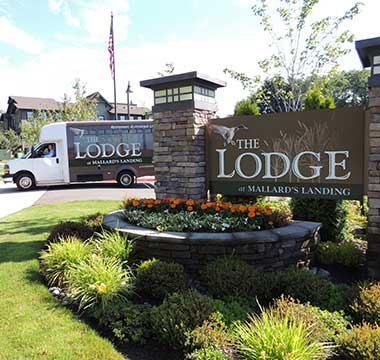 Below is a list of some of our offerings. Simply click on any listing to learn more.
7 days a week from 7 a.m. to 6:30 p.m.—our dining service offers chef-prepared breakfast, lunch and dinner for residents and their families.
We put together a monthly calendar of upcoming events so that residents can look forward to their favorites. Families are encouraged to visit and take part in these events, whether it is live music in our game room, special outings or support groups.
Click here to learn more about cozy Gig Harbor and the surrounding areas of The Lodge. From waterfront views to friendly downtown area, there is much to be explored.
Hear from current residents about their experiences and life at The Lodge. Click here to read about the positive experiences many seniors have had and why they would recommend this community.
Hello! Meet the people who work to make every day better than the last at Mallards Landing. We would love for you to learn a bit more about us and how we have come to call The Lodge home.
You have a question, we have an answer... click here to read commonly asked questions. If you don't see your question listed, please do not hesitate to call or email us for more information. We look forward to chatting!