With Appreciation
Wow! We are positively overwhelmed with the response to our first-ever effort to do an online event in support of Keiro NW. Even with the few early morning glitches, we had over 430 visitors within the first 30 min! And what great shoppers…things were selling at a fast clip and we are pleased that we could connect our impassioned customers with our loyal vendors. It was a thrill to present an alternative craft fair during these challenging times. There are many, many people to thank, but at least for now, do accept our deep gratitude for your continued support: family, friends, staff who do such honorable work caring for our elders, and the whole Keiro NW community. Arigato!
Please stay well during the holidays.
Tomoko Matsuno, Ayame Kai Guild Chairperson
Ruth Kimura and Julie Ann Oiye, Craft Fair Co-chairs
Pick-up Directions
Location - 718 6th Ave S, Seattle 
Please pick-up your paid purchases on Saturday, November 21st from 9am – 2pm. We have curbside service only on the east side of the street and will follow social distancing guidelines. Please stay in your car and wear a mask at all times. Call 206-409-3062 when en route to have your packages ready.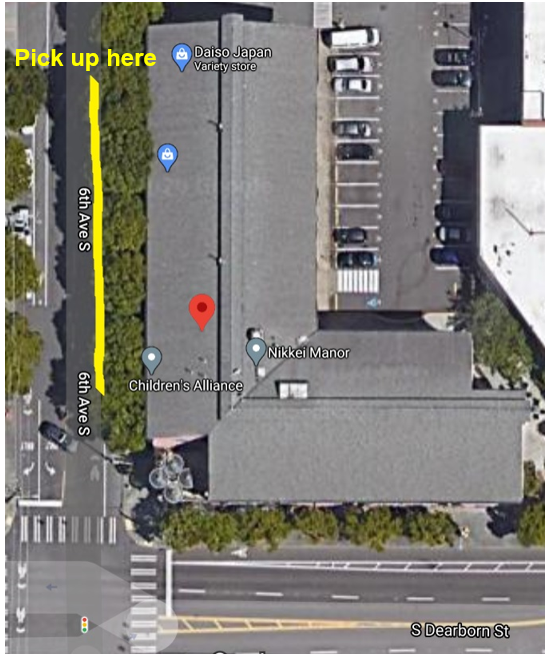 Thank You 2020 Vendors
3 Tomodachi * Absolutely Lerna's * akirart * Ayame Kai Kimochi Collection * Holy Bee's Bakery * Janine's Designs * Kimiko Kreations * KiMonoMono * Lulumiere Candles * Melinda & Ginger * MIN & MAY * NANCYM4 * Sharon Ito Crafts * Sumofish * SuStudio Jewelry * Two Squirrels and a Nut * YAGUCHI DESIGN * Zukuri Designs
Ayame Kai Guild
Ayame Kai Guild is the volunteer auxiliary of Keiro Northwest. They raise funds to benefit the residents and participants of Nikkei Manor and Kokoro Kai programs.
MEMBERSHIP
Ayame Kai seeks new members of all ages and abilities. All are welcome.
Please contact Julie Ann Oiye at jayoiye@gmail.com regarding membership, or you may register online today.
If you would like to donate to Ayame Kai Guild, please click the Donate Button.