Activities at King's Manor Senior Living Community
King's Manor Senior Living Community offers a variety of activities designed to keep you active and social. We believe offering a well-rounded activities program is one of the keys to promoting a healthy lifestyle for older adults.
We have a full-time Activities Director who takes pride in offering a meaningful life enrichment program for our residents. Life enrichment to us means quality of life. Our regularly scheduled exercise classes help promote your physical well-being. While playing games like Scrabble, Pinochle, BINGO, and Trivia helps with your mental stimulation.
We have a separate activity room for special projects, puzzles, games, and crafts. You can gather with your neighbors for a book club, a cup of coffee, or to discuss current events. 
We offer day trips for shopping in Tacoma, social gatherings, and scenic drives through our community bus. In addition, transportation can be scheduled for special events, like concerts, etc.
Our activities professionals also welcome activity ideas from our residents and their family members. Contact us today to find out more about our life enrichment program. 
Community Activities
We encourage family members to attend special events, outings, and support groups, or participate in our daily activities. Please click below to download our latest senior activity calendar.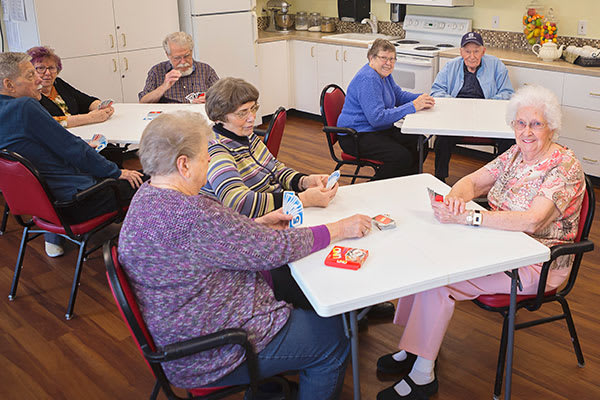 King's Manor Senior Living Community Testimonial
"My mother has appreciated all of the care and kindness you have given her these past two years. She has enjoyed being given opportunities to lead and contribute to the variety of activities that you have offered to all residents. Keeping her active and viable has helped her live life to the fullest. Encouraging her to write and to share her legacy has helped and succeeded in making her feel a part of the King's Manor Community. Whenever she is with us for family celebrations she refers to King's Manor and the employees who work there as "home" and "my friends."
~ Jon E. (Resident Family Member)